I've gotten a few questions about the script in the header (the one in black below the word "Dothraki" in white), so I thought I'd address it, even though it doesn't relate much to Dothraki itself.
First (in case there's anyone who can't make it out), it's intended to say "Dothraki" in English (works if you kind of squint your eyes at it [especially when you get to the "a"]). Even so, the script was not intended to be a Roman font: it was created for a conlang.
Back in mid-2010, when I was working on season 1 of Game of Thrones, I was also participating in a group conlang creation project (the language was called Kenakoliku). It didn't end up being successful (group projects are very difficult to maintain), but it was fun at the time. Since my favorite part of creating a language is creating its orthography, I devoted my energies to creating a possible orthography for Kenakoliku.
I initially fonted up five proposals (just one character for each): two instantiations of someone else's hand-drawn proposal, and three of my own. They're shown below: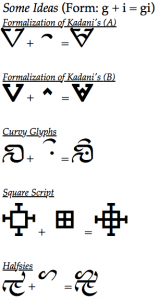 I actually liked the one called "Curvy Glyphs" the best, with "Kadani B" coming in a close second (for some reason it reminded me of those block Greek letters you see on fraternity houses…), but most everyone else liked what I called "Halfsies": an orthography where the consonant was on the bottom, and the vowel on the top. As a result, I filled the font out, creating possible consonant and vowel characters without assigning any values to them (so people on the board could choose which ones they liked best). Here's the chart I came up with: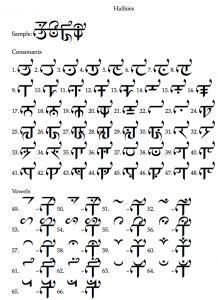 From this sample, everyone (mostly) settled on form-sound combinations they liked, and I produced a font, a sample of which is shown below: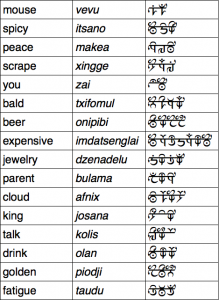 The font had some problems, and I mostly fixed them so that the font worked in my word processor of choice, but then it still had problems in other word processors, and then the language itself kind of wound down anyway, so I abandoned the project and the script. If you'd like, you can download what remains of the font and toy around with it here (.zip). I warn you, though: the ligatures may not work on your end, and I'm no longer maintaining it.
Anyway, several months later, Game of Thrones debuted, and I started up a LiveJournal account mainly to make comments on George R. R. Martin's LiveJournal. In order to do so, though, I needed an icon. I didn't want to use a picture of one of the actors from the show (or, even worse, a picture of me), and Dothraki didn't have its own script, so I was in a quandary. I'd always liked the Halfsies font, though (I always referred to it in my head as the Swashbuckler's Script), and one of the characters kind of looked like a "D", so I made it my LJ icon:
And that's been my little Dothraki icon ever since.
When it came to making this blog, I found a theme I really liked (props to digitalnature!), but the font in the header looked way too plain (sans-serif?! Decidedly un-Dothraki!). And since I didn't want to actually go in and mess with the CSS, I just created a background image with the Halfsies font. In order to get something that looked like English, I had to pick and choose characters (and alter some, using Photoshop), some of which you will have seen in the image above: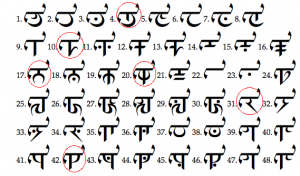 And eventually I had it.
So that's the story behind the script in the header. The look of it was, indeed, inspired by Devanāgarī, but the actual structure is a bit different. The font above can't actually be used to write English (it'd need a lot of work for that), but maybe if someone's interested they can take it and manipulate it.
I feel like I should have something related to Dothraki in here, since this is a Dothraki blog. Let's see… If I had to give "Halfsies" a name in Dothraki it'd probably be Lirisirazo (a class B inanimate noun, as all noun-adjective compounds are that end in a vowel), which means something like "Bladed Writing".
Also, for the curious, Dothraki is now up to 3,163 words: More words than Mr. Padre Tony Gwynn has hits, but still a ways to go to catch Pete Rose (and my guess is Dothraki will have double his number before he gets even a sniff of the Hall of Fame).