Those who are fans of A Song of Ice and Fire probably already know this, but for those who don't, two fans of the series started a blog a while back where they cook and catalog each and every dish mentioned in one of the books of A Song of Ice and Fire (and there are many). The blog is called The Inn at the Crossroads (named after the, uh…Inn at the Crossroads from the books), and it's chock full of recipes both tasty and terrifying.
But for those of us who have read as far as A Dance with Dragons, there's one recipe that is bound to make one shudder: Honey Spiced Locusts. The locust is, of course, edible, but the very thought of eating an insect is…disquieting. I mean, with a snail, you can close your eyes and pretend it's a clam or a shrimp, but a locust?! Ain't no getting around that thorax. Blech!
Needless to say, I was quite impressed that The Inn at the Crossroads folks not only made the dish, but ate it (with their mouths!). Here's their photo of it below: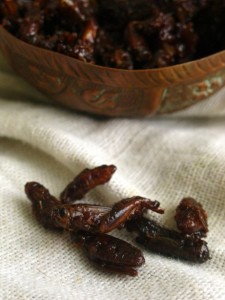 My hat is off to them. And since this is a dish that comes from across the Narrow Sea, the Dothraki should certainly have a word for it—or, if not the dish, then the insect, at least. As it happens, Dothraki lacks a word for locust (and grasshopper), so I decided to coin a word based on the names of the chefs at The Inn at the Crossroads: Sariann and Chelsea. The new word for "locust" in Dothraki, then, is a portmanteau of the two names: chelsian. (Try them with gizikh; apparently they're "crunchy" and "surprisingly good". I shall remain forever curious.)
Rather than actual locusts, they apparently used crickets. While I've never eaten a cricket, I have had one in my mouth. You see, back when I was at Berkeley, I lived in a co-op called Casa Zimbabwe (a.k.a. Krakistan). One evening, some fellow CZers were feeling adventurous, and so they decided to make chocolate-covered crickets. (As background, our house would get Ghirardelli chocolate chips in bulk and keep a box of them in the pantry. And me, I'd often grab a handful of chocolate chips on my way to class as a little pick-me-up.)
You probably see where this is going.
One day I reached into the Ghirardelli box to grab a handful of chocolate chips like I always did, and when I put them in my mouth, the first thing I thought was, "Ewww… There was a ball of hair in the chocolate chips for some reason." Then I went to the sink and spit out ten to fifteen melty chocolate chips and…a dead cricket.
The dude in the dining room thought this was funny—after all, what's wrong with a cricket that isn't wrong with beef or chicken or fish? And while I agree with the spirit of the rejoinder, I did not plan on putting a cricket into my mouth, and, if I'd been given the choice, would have chosen not to. Really and truly I would have.
Thus endeth the tale of David's mouth and the cricket. And if I have my druthers, no cricket will come as close to my esophagus as that cricket did that fateful afternoon ever again.
But by all means, if you feel like trying out the ol' honey spiced locusts/crickets, give it a go! If you take a picture of yourself doing so, I'll put it up here and give it a proper Dothraki caption of one kind or another.
(Note: Please don't interpret this as encouragement to do so. I'll probably be horrified if I get pictures of people eating crickets. I'll put them up here, for sure, but I probably won't be able to eat for a few days afterward…)