Grow strong.
It's hard to compare episodes when you haven't seen them in a while, but I think "And Now His Watch Is Ended" was easily one of the best of the series—certainly the best of the season. Some comments before getting to the language bits.
The story with Varys was an invention (him finding that sorcerer), but I liked it. As my wife said, it's been evident in the show that he's really good at getting information and managing tense social situations, but he's never felt as threatening as he feels in the book—always a little bit softer. This is tangible evidence of his potential for malice.
And, good lord, my Tywin Lannister! I honestly can't decide which I like best: Tywin from the books, or Tywin on the show. They're appreciably different, and equally incredible. And this time his top highlight was a single word: Contribute. The thing I love about Tywin as a character is how intractable he is. Everyone manages to manipulate everyone else, and everybody makes mistakes, but no matter what he does, it was always the right decision—and it's always everybody else that screws up. It would be monstrous to have him as a father—or really to have any dealings with him whatsoever—and I think that's part of what makes it so enjoyable to watch him be so tyrannical—especially with those who get away with murder elsewhere in the series.
The dust up at Craster's had both me and my wife running to the web, because neither of us remembered Jeor Mormont getting stabbed. And yet, there it was, just as in the books. The bits north of the wall almost remind me of a horror movie—where the Night's Watch start out taking every precaution as they venture northward, and tiny almost insignificant mistakes end up seeing these guys drop dead one by one.
Oh, and Jack Gleeson had me cackling the whole time, with his awkward excitement at Margaery's patronizing him. And looking like he's never waved before! What an actor that guy is!
But anyway, there was quite a bit of Valyrian this episode, including our first High Valyrian of the series (outside of valar morghūlis and drakarys). It begins with a long speech by Kraznys that kind of gets cut up a bit as Missandei translates; I don't know if you hear a lot of it. After the short exchange, Dany passes off Drogon and asks if it's done. Missandei relays this:
Pindas lu sa sir tida.
"She asks if it is now done."
Then Kraznys tells her that it is:
Sa tida. Pelos ji qlony. J'aspo eza zya azantyr.
"It is done. She holds the whip. The bitch has her army."
And then thinks get messy.
So when I was originally reading the books, I kind of foresaw what happens next. First, I always imagined that the dragons would be bigger, and so shortly after she agrees to the deal, I thought, "You can give someone a dragon the way you can give them a lion." Seriously, what's he going to do? And it's not like anyone alive has ever seen a dragon except those directly connected to Dany—and certainly no one other than her has ever managed to tame one. Just how did he think he was going to "own" it?
And then the Unsullied! I mean, sure, I guess he might think that she would honor their agreement, but if she has an 8,000 person trained army that's 100% loyal to her and no one else has anything but guards…? It doesn't take a military genius to calculate the possibilities here.
Anyway, even though I kind of saw that coming when I was reading the books, by now, I, of course, have read all the books, so I actually know what's coming; it's just a matter of how it will look on screen. There are a large number of folks that haven't read the books and only know the story from the show—and I've been following their chatter on Twitter. A lot of people were upset with how callous and insulting Kraznys is—especially when he's insulting the Dothraki. I'd love to know what it was like to watch this episode if you really didn't know what was coming. That experience must've been incredible.
As it was, the scene was outstanding. I was delighted by Emilia Clarke's performance. She really does speak High Valyrian like a natural. She missed a word or two here or there, but such will happen. Overall, I'm extraordinarily pleased. I'm going to try to go through all the lines, but it's going to take me a bit (Final Draft doesn't allow characters with macrons, so there are no long vowels in the script. I'll have to do a bit of back and forth to get it right). Anyway, Dany gives the following orders to her new army:
Dovaogēdys! Naejot memēbātās! Kelītīs!
"Unsullied! Forward march! Halt!"
Of note here is that High Valyrian distinguishes between singular and plural commands. The commands here are plural, as Dovaogēdys is plural, rather than collective.
Then we have a little more Astapori Valyrian from Kraznys, who evidently hasn't been paying much attention (#distractedbydragon):
Ivetra j'aspo zya dyni do majis.
"Tell the bitch her beast won't come."
And then Dany's comeback:
Zaldrīzes buzdari iksos daor.
"A dragon is not a slave."
Of note here: the word for dragon, zaldrīzes. Also, buzdari is stressed on the second syllable even though the a is not long because this isn't actually a High Valyrian word: It's an Astapori word that Dany is using on purpose. The High Valyrian word for slave is dohaeriros (whose root you may recognize), but the word they use in Astapor is buzdar, which has its roots in Ghiscari. Dany uses his own word so he'll know that she knows. (And, by the way, since it's a borrowing, it goes into the borrowed declension class, which means its accusative ends in -i.) And, indeed, Kraznys now gets it:
Ydra ji Valyre?
"You speak Valyrian?"
And then we get, perhaps, my favorite Daenerys line:
Nyke Daenerys Jelmāzmo hen Targārio Lentrot, hen Valyrio Uēpo ānogār iksan. Valyrio muño ēngos ñuhys issa.
"I am Daenerys Stormborn of the House Targaryen, of the blood of Old Valyria. Valyrian is my mother tongue."
(Note: Those who were participating in a previous discussion may want to look at the precise spelling of Daenerys. I guess it has been decided! Forgot about that.)
Then comes quite a long bit of High Valyrian for Dany:
Dovaogēdys! Āeksia ossēnātās, menti ossēnātās, qilōni pilos lue vale tolvie ossēnātās, yn riñe dōre ōdrikātās. Urnet luo buzdaro tolvio belma pryjātās!
"Unsullied! Slay the masters, slay the soldiers, slay every man who holds a whip, but harm no child. Strike the chains off every slave you see!"
And then we get Kraznys' last lines of the show:
Nyk skan jiva aeske! Zer sena! Zer sena!
"I am your master! Kill her! Kill her!"
And then Dany says one of the High Valyrian words we already knew, and then comes the sweet, sweet carnage.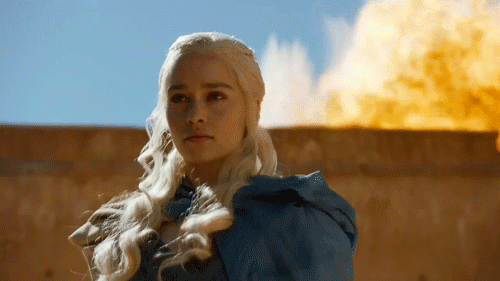 What a scene… My hat is off to Dave and Dan. They've done great work, and continue to raise the bar.
At the end, Dany says most of the following:
Jevo glaesoti rȳ buzdari istiat. Kesȳ tubī jemot dāervi tepan.
"You have been slaves all your life. Today I give you freedom."
Next:
Henujagon jaelza lua vala mirre henujagon kostas, se daorys ziry ōdrikilza. Jemot kivio ñuhe tepan.
"Any man who wishes to leave may leave, and no one will harm him. I give you my word."
Finally:
Yne sytivīlībilāt? Hae dāero valoti?
"Will you fight for me? As free men?"
I don't think I missed any long vowels above, but I may have (and if so, I'm sure we'll get them sorted eventually).
I hope you enjoyed the episode as much as I did. It was an absolute joy to work on High Valyrian, and now that I've heard Emilia speak it, I can say that I'm really pleased with the results. I'm also greatly appreciative of the talents of Dan Hildebrand: the latest fallen soldier from Game of Thrones. When I was imagining Kraznys, I was imagining a coarse, revolting, unmannered oaf of a slave master. Dan did the exact opposite of this. His Kraznys is well-cultivated, and speaks with an easy almost callous casualness. It makes his insulting behavior that much more shocking, in my opinion. He seems like a guy who would do well in mixed company, so the fact that he can be so horribly insulting to someone standing right in front of him gives you a totally different picture of what it means to be a slave master in Astapor. He's so powerful that he simply doesn't need to care what anyone thinks of him, and it probably never occurs to him that anything he does could be wrong. You did a remarkable job, Dan, and I couldn't be happier with the way you tackled Astapori Valyrian. Kirimvose!
So now there's a good batch of High Valyrian (and Astapori Valyrian) material there to work with. When looking at High Valyrian—especially the sentences with relative clauses—bear in mind that, in most important respects, High Valyrian is head-final. Relative clauses are a bit tough—or backwards—for anyone speaking a Western language.
Four down and six to go! Plenty of Valyrian yet to come. Thanks for reading!