Aena shekhikhi! (Good morning!)
This is from quite a while ago, but Thomas Magnum (his Twitter account is here) put together this outstanding mock up of the famous Barack Obama "Hope" poster using our own Khal Drogo (Jason Momoa) and some Dothraki: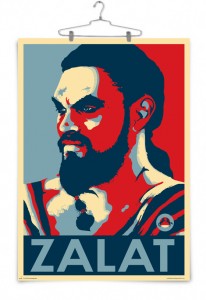 Outstanding. Notice the Horse Gate (Emrakh Hrazefi) logo in the lower right in place of the Obama "O" logo. A lot of work went into this, and it deserves a wider audience, so I'm posting about it here.
No doubt those who know a bit about Dothraki will have a question about zalat as it's written there. It certainly does mean "to hope" or "to want", but I think that the infinitival form might not be the one wanted here… In English (as in Hawaiian), we have single words (or word forms) that serve many, many different functions. In Dothraki, these forms don't always line up one to one.
Regarding "HOPE", as it is on the original poster, my sense (and please feel free to voice your opinion if you think differently) is that the form of the verb is supposed to be the imperative (i.e. it's a command that we ought to hope). Given that this is English, though, it's not clear. Below is a breakdown of everything that it could be with the corresponding Dothraki translation:
| Grammatical Form | Dothraki Form | English Form |
| --- | --- | --- |
| Infinitive | zalat | hope |
| First Person Plural Present | zalaki | hope |
| Imperative (Informal) | zalas | hope |
| Imperative (Formal) | zali | hope |
| Nominal | athzalar | hope |
As you can see, the English leaves much to interpretation (which is always fun. Dothraki does the same thing elsewhere in the language). Interpreting the original poster in at least one way would, I think, call for the infinitive; I'm just not sure if that's the way we're supposed to interpret it.
Time passes as I do some wikipediating…
Oh, you know what? I think it's supposed to be a noun. There are other versions of the poster with "CHANGE" and "PROGRESS". Now the former can be a noun or a verb, but the latter can only be…wait a minute… Of course, the verbal and nominal versions of "progress" are pronounced differently, but they're spelled the same! Huh. Though the verbal version wouldn't make much sense, given the context…
Okay, from circumstantial evidence, I think it's supposed to be a noun. That said, I think ZALAT looks better than ATHZALAR. It's simpler.
Anyway, I thought the poster was pretty cool, so thought I'd share. I was also planning to work in the word for "market", but since I can't think of a clever way to do it, here it is, zhey Daenerys: jereser. The Western Market would be Jereser Jim, and the Eastern Market Jereser Tith.