The past two Game of Thrones premiere events have been pretty incredible, but this was something different. Going all the way back to the 1920s, if anyone mentioned a big Hollywood premiere, the first place that would come to mind was Grauman's Chinese Theater in Hollywood. And lo and behold, that's where we were.
Of course, I was late, though. I guessed the traffic correctly, for the most part, but I guess when they do a premiere like this, the traffic around the theater is a bit crazy (as I learned when I got there and saw they had lanes blocked off to accommodate the premiere). So we kind of rushed in (it was already dark), and the first thing we saw was this: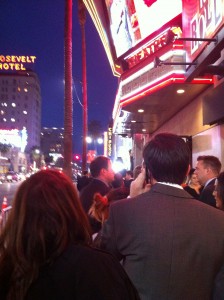 Big old line. That was the first indication that things would be different this year. And, indeed, it appears that the "cast and crew" premiere event has outgrown its former venue by leaps and bounds. The theater was packed.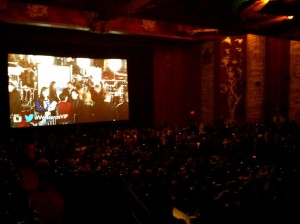 Originally we were escorted to the wrong seats and I ran into Bryan Cogman, who got to sit next to Rob McElhenney and Kaitlin Olson of It's Always Sunny in Philadelphia (lucky chiftik). But it's all good. My wife Erin and I had a lot of fun taking a look at the renovated Chinese Theater (I'd been there once before pre-renovation/restoration. Looks great now.)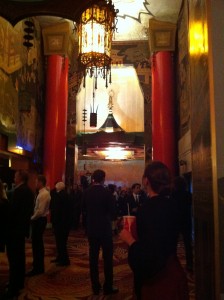 After some speeches, we got to see the first episode of season 3…about which I'll have much more to say come April 1st.
Afterwards we got to get our picture taken out front (thank you Sharon!).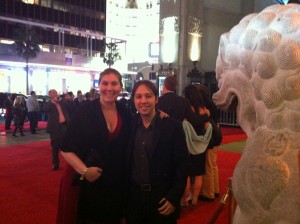 Then we walked over to the Hollywood Roosevelt Hotel for the after party (the Dothraki vitteya [props to the HBO folks who got the word right!]). This was my first ever encounter with actual paparazzi. Not that they were looking for me, but we were all walking from the theater in a big group, and there was actually a barricade with police and a whole bunch of guys with cameras shouting at the crowd (the names I heard as I was going by: "George!", "Nathalie!" [and, in fact, George R. R. Martin did go over to the barricade to sign a few autographs, which I thought was charitable]). It was really bizarre. I really should've taken a picture of them (kicking myself now. If there's a next time, anha astak asqoy: I will get a picture of a wall of paparazzi!).
The party at the Roosevelt was, in a word, opulent. There were a string of performers (a juggler, a belly dancer, two guys doing a sword fighting display, musicians) in the main hall, a place where you could get your fortune read with tarot cards—oh, in fact, I took a picture of the little program they had printed up: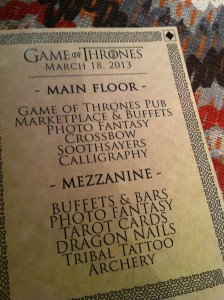 I did, indeed, shoot some arrows (unfortunately the picture was too dark; not worth posting), and my wife got her nails done (and of the choice, she notes: "The dragon has three heads!"):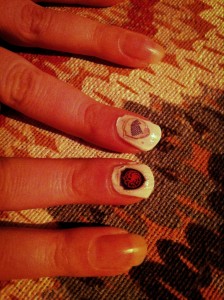 And to keep an old tradition going, here's a picture of my dinner: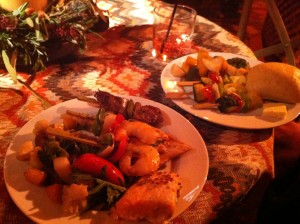 A quick aside: Are there such things as freshwater shrimp? Is that a modern phenomenon (with shrimp farms)?
Anyway, one thing I was extremely glad of is I got to meet both Nathalie Emmanuel (who plays Missandei) and Dan Hildebrand (who plays Kraznys) at the after party. I saw their work for the first time tonight, and, as I told that, I was extraordinarily impressed. They're both new to the show and new to working with a constructed language, and the language itself is brand new, so, to be honest, I wasn't expecting much. Their performances far exceeded my expectations. I could barely sit still in my seat, thinking to myself, "My god! They're nailing it!" I'll have some more specific details after the official premiere, but suffice it say they both put a lot of effort into getting the Astapori Valyrian down (for which I'm grateful), and their hard work more than paid off. I couldn't have hoped for anything better.
Oh, and they were both gracious enough to take a picture with me. Here's me and Nathalie: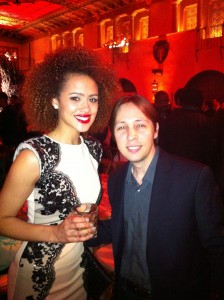 And here's me and Dan: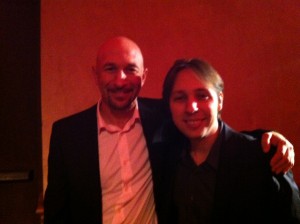 Oh, and before I forget, this was the main banquet hall. I couldn't get a picture to do it justice, but there was a gigantic map of Westeros and some of Essos draping the far wall (more than a story tall). You can see it in the background here: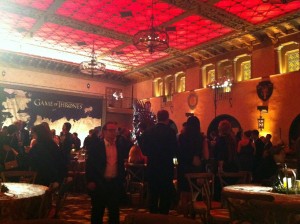 Probably the number one moment that many are going to wish I was videotaping but which I didn't occurred when they started playing "Billie Jean". George R. R. Martin was sitting at a table with most of the child actors (Arya, Sansa, Bran, Hot Pie), when Maisie Williams decided to start singing along, using Sophie Turner's hand as a microphone. As it moved into the chorus, they all joined in. It was priceless.
My strangest moment was when Dan Weiss's father and mother came up to introduce themselves to me. They recognized me, and said they were big fans of the show. The show they meant, though, wasn't Game of Thrones: It was CNN's The Next List. I guess they watch it all the time, and they'd seen the episode with me on it and they recognized me from it. (Tracey Dorsey, if you're reading this, you've got fans in high places! They love the show!)
But I think the highlight of the night for me was when I achieved something I failed to last year. Jason Momoa was at the premiere again this year, and, like last year, he brought his wife, Lisa Bonet. And though it didn't happen last year, this time I got a picture with her: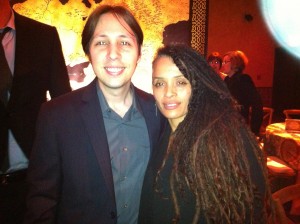 If I could tell you what The Cosby Show meant to me as a kid growing up, it'd take months to read this post. In short, let's just say I can die happy.
I know there are a lot of fans out there that can't wait for March 31st—and, believe me, it'll be worth the wait; they did a terrific job. But now having seen it, I have to say: I can't wait for April 7th.
Fonas chek!