So this one kind of slipped under the radar.
If you point your browser over to JoinTheRealm.com, you'll be able to create a custom sigil à la Game of Thrones for your own house. You can choose your colors, your sigil, your house name, your house motto—the whole bit—and share it with friends.
But if you take a moment, you may notice something else. If you go to the upper left-hand corner of the screen and select "Change Language"…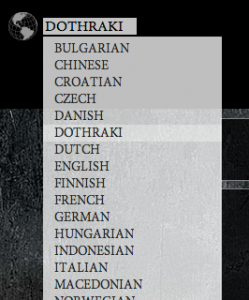 Yep. You can go through the entire app in Dothraki. I translated the whole thing—even the copyright info down at the bottom.

In fact, if you want to try to include some salty language in your sigil, you'll even get to see a custom "Nah, you can't do that" message.
I could literally sit with something like this all day and never get tired of coming up with custom sigils, but this is my first: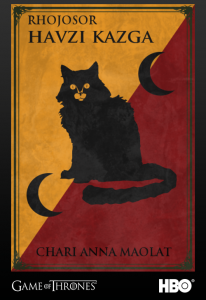 Those who remember this discussion may know what that means at a glance.
I don't know if the comments will allow you to post images, but if there's a way you can share, let's see some sigils! I'll probably be doing more as the weeks, months and years progress.
Fonas chek!
Update: And one just for me: