A lot of people have been asking me over the years, "When will there be a book on Dothraki?" My response to this has always been, "Yeah! When will there be a book on Dothraki?!" Because I've long wanted for there to be a teach yourself guide on Dothraki—maybe something with exercises, grammar explanations, dialogues, vocabulary, etc., even some audio files to go with it. That would be awesome! But while I'm a language creator, it's not like I'm a publisher. I can't of a sudden decide that a teach yourself guide will exist, even if I wrote one. I'm just one guy: I need help!
Now, thanks to a partnership between Living Language and HBO Global Licensing, I got the help I need.
I'm happy to announce that Living Language is going to be publishing an official guide to Dothraki. Living Language Dothraki will come in three forms: a printed book; an online course; and an app for iOS devices. I've worked on every aspect of the course, and added some new vocabulary unique to the Living Language series. It'll help get newcomers up to speed in the language, and will provide long time learners with an official resource to keep and refer to for years to come.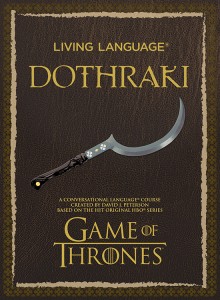 This book would not be a reality if there weren't already a fanbase place—not just for Game of Thrones, but for the languages themselves. I especially want to thank the Dothraki fans that were there from the very beginning: Hrakkar, Dany, Crown of Gold, Lajaki, Najahho, Ingemar and Qvaak. If you're wondering what I've been so busy with this year, this was a big part of it. San athchomari shafkea! I can't wait for you to see it. October 7! Mark your calendars!
Preorder Link: http://livinglanguage.com/dothraki