Today is my birthday once again; I'm now 34 years old. Since there are no snappy songs associated with the number 34, I think it's about time for me to stop announcing my age… (Well, except Charles Barkley's number was 34 on the Suns). I received a nice gift from a fellow conlanger, Andrew Gerber, whose tales from Mongolia helped to inspire a number of Dothraki terms (including the separate words for wet and dried animal dung!). He sent me a card he wrote in Dothraki…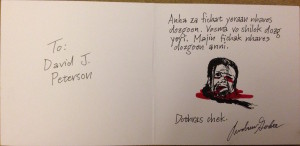 …and in Mongolian: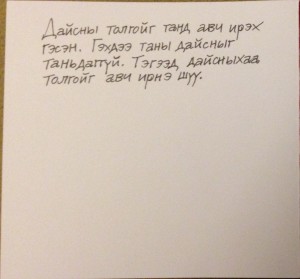 Veteran Dothraki speakers might spot a few errors in the first message, but give him a break! He's still learning. I thought it was pretty good! As for the Mongolian, I have a hard time even pronouncing it (Mongolian's use of Cyrillic is…unique). Wildly impressed how fluent he became in three years in Mongolia with the Peace Corps!
Now to business. It is time for this year's Dothraki haiku competition. This year I've decided to throw a twist into it. We will have the haiku competition in Dothraki, as usual, where the prize will be the coveted Red Rabbit (Mawizzi Virzeth), won all three years by the amazing Qvaak. Will this be the first year he's dethroned?! Be interesting to see if we get any from Living Language Dothraki users this year! (Though it'll be understandable if there aren't any: It's only been out about three months.) Anyway, that competition will run per usual (rules at the end of this post). What I'm adding this year is an official High Valyrian haiku competition. It will not be for the Red Rabbit, but for some separate prize of my choosing (I haven't decided yet). This way the different languages won't be in competition. There will be separate rules for the Valyrian entries, so pay attention to those at the end. Feel free to submit one of each.
But before all that, here are my haikus for the year. First, Dothraki:
Lajaki laqi
Achrakh ozokhi she yash
Glas rayim rissa.
Words that may not be available in there: yash is "air"; ozokh is the corpse of an animal; and rayim is like ray, but also passive. Now for High Valyrian:
Hūro gō
Tubī kȳvana
Pryjassiksi.
A new word here is kȳvanon, which means "plan" or "strategy". (And I think tubī works for the meaning I intend. Don't you judge me! It's my birthday!)
All right, this year's challenge words are niqe, "stiff", for Dothraki (take note of the rules regarding epenthetic vowels below) and gevives, "beauty", for High Valyrian. Now here are the rules, reposted from years prior:
Guidelines
For the purposes of this contest, a haiku is 17 syllables long, with the syllable counts for each line being 5, 7 and 5, in that order. If you need to fudge, go for it, but I will weight exact syllable counts more highly..
Also (and this is important), since this is Dothraki, we are definitely going by syllable count, not mora count. Regarding syllable-counting, in Dothraki, a syllable is defined as a vowel plus one or more consonants on either side. A syllable cannot contain more than one vowel, which means that a word like kishaan is trisyllabic, not disyllabic.
If it helps, you may or may not contract the various prepositions that contract. So, for example, mr'anha (two syllables) is the usual way of saying "inside me". For your haiku, if you wish, you can separate the two out, i.e. mra anha (three syllables). You can also drop purely epenthetic e vowels (so the past tense of "crush", kaffe, can be rendered as kaff'). Feel free to play with word order and drop pronouns, as needed, bearing in mind that such language is figurative, and the reader will still need to be able to figure out who's doing what to whom.
For Valyrian: Long vowels count as two mora, and a vowel with a coda counts as two mora, but a syllable will not have more than two mora. So a long vowel plus a coda consonant will still be two mora, for the purposes of the poem. If you can't do the poem using mora, do it with syllables, but I'll weight those done with mora more highly. This will make it more like a real Japanese haiku. If you need a particular word in a particular number/case combination or a verb in a particular conjugation, please let me know and I'll give it to you.
Addendum: Rising diphthongs count as two mora (i.e. ae and ao); falling diphthongs count as one (e.g. ia, ua, ue, etc.). Also, word order is certainly freer in poetry than it is in everyday speech, but the rules about adjectives still apply (i.e. you use the short forms if the adjective appears directly before the noun it modifies; otherwise they'd take their full forms). And, finally, word-final consonants are extrametrical. Thus if a word ends in -kor, that counts as one mora, not two.
Shieraki gori ha yerea! Fonas chek!