Living Language Dothraki is officially on sale today! You can buy it at any bookstore, or go to the official site to buy it here. I got mine in the mail last week.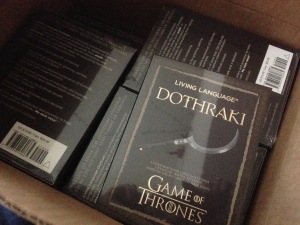 The feeling is pretty overwhelming. A lot of folks worked very hard on this, and a lot of stuff happened behind the scenes to make this day a reality. We all have HBO to thank for this. They've allowed a community to grow around this language, and they gave the green light to this book. Now you can take a look at it yourselves, and I hope you enjoy it!
I'm going to be in New York all week, and will be posting updates on Twitter. My remaining schedule for the coming months looks like this:
OCTOBER
NOVEMBER
If you're going to be near any of these places, please come say hi. Otherwise, thanks for following the blog the past few years, and for helping to make this day a reality!