It's been a heck of a month for Living Language Dothraki. It made the Los Angeles Times' best sellers' list, so that's cool! I've been all over the country talking about Dothraki, and I got really sick at the tail end of the journey.
And speaking of tails…
Winter Goat is getting ready to make a return! If you'd like to submit a photo to be considered for Winter Goat 2014, please send them to me at "dave" at "conlang" dot "org". If I get some photos, I'll put them up and we'll have a vote, as is the Yuletide tradition here.
It was a lot of fun wandering the country talking about Dothraki. It's been a while since I've been so focused on Dothraki specifically, as opposed to some of the other languages I've been working with, and I've discovered that it's still the language I'm most fluent in (despite the fact that I'm nowhere near fluent). I signed a number of books with messages in Dothraki, and I've realized, to my horror, that a number of those feature errors (e.g. I didn't use the right case with the relevant preposition; I spelled a word wrong, etc.). If you find a signed copy without any grammar errors, it'll be quite valuable.
In New York, I did a panel at New York Comic-Con which was packed. That was a really awesome way to kick things off. You never know with a language creation event: you could be presenting to a room of two or two hundred. In this case, it was probably closer to four hundred. Here's a picture my wife took during: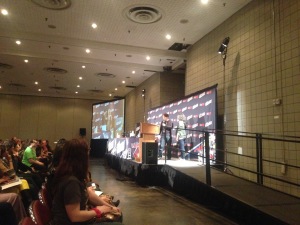 After New York I did a number of events in Southern California. Here's a picture of the set of San Diego Living: a morning show. An early morning show. Ugh. Why don't they record it at a different hour and just do a tape delay?! But whatever. It's done. (Though I did flub whatever it was I said during the interview. My grammatical errors aren't restricted to writing!)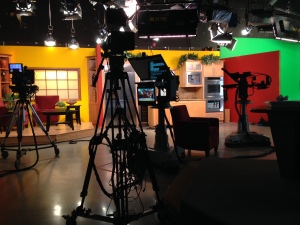 I did a number of signings at libraries and bookstores. Among my favorite was the signing that was held at Mission Viejo city hall. They had a gavel. It was awesome. But this is my favorite picture from the event. It's probably too blurry to do it justice, but this was just before Halloween, and this girl came in an outstanding Arya costume. The craftsmanship was unbelievable. A photo simply can't do it justice. Athdavrazar, zhey Ari!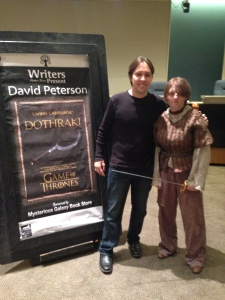 Last week I went to Colorado and then the Bay Area. In Colorado it snowed. A lot. It was literally below freezing. How people live in that nonsense is beyond me. Prof. Steven Hayward did get a nice shot of me at Garden of the Gods, though.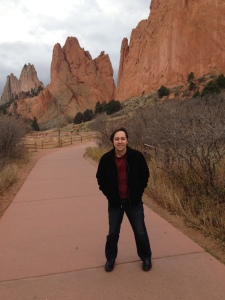 I also went to Berkeley, where, apparently, I failed to take a picture of anything except the hot dog I ate and this dinosaur in VLSB: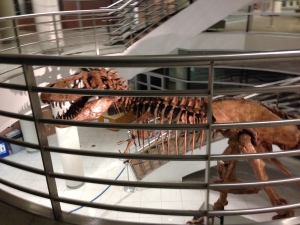 I don't even know with me sometimes…
But hey! If the Dothraki lived in prehistorical times, they would totally ride raptors, right? Wouldn't that be awesome?!
In the Bay Area, I participated in a couple great events at Kepler's and Books Inc., and I also gave a talk at Google (the Google). Here's a shot after: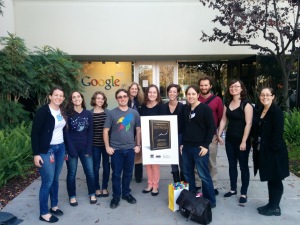 It was an employees-only event, but they did put up a video on YouTube, which you can watch here (after all, they are YouTube).
I was also really grateful to be able to see some of the original Dothraki lajaki: Crown of Gold, Daenerys and Hrakkar. I was out-of-my-mind sick, but that really made the whole trip. Thanks for coming out to dinner, and I hope I didn't get you sick!
I'm not sure when I'll be going out next, but per usual, I will note on here whenever I'm doing an event somewhere or will be going to a convention. If I don't post on the day, may you have a very merry Thanksgiving! Could go for some of that turkey and stuffing right now, to be honest…